Where Do I Park?
ANCIRA GARAGE
McCOMBS GARAGE
INCARNATE WORD HIGH SCHOOL
SCHOOL OF PHARMACY
ALAMO STADIUM PARKING AND SHUTTLE (view map)
Zoom in for a better look.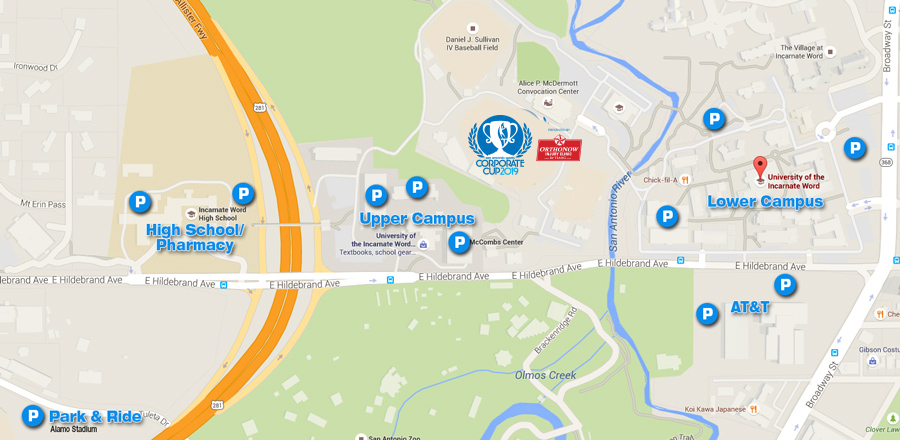 UPPER CAMPUS
1) McCombs garage – 180 spaces (most accessible parking to stadium – elevator available to walkway on field level)
2) Ancira garage – 800 spaces
3) Hillside garage – 80 spaces
LOWER CAMPUS:
1) Agnese/Sosa parking garage
2) Dubois surface parking lot
3) Administration building parking lot
Parking options on campus near the football stadium and behind the baseball field. These spaces can only be accessed from the hill before 7:00 a.m. Due to pedestrian walkways and the 5K run and 2K wellness walk, the road will be closed just beyond the parking garages on the top of the hill from 7:00-9:45 a.m.

OFF CAMPUS:
HIGH SCHOOL / PHARMACY
General parking is also available on the west side of 281 off Hildebrand in the Feik School of Pharmacy lots (232 spaces) and the parking lot between the pharmacy school and Incarnate Word High School (70+ spaces). There is a pedestrian walkway connecting the high school and university campuses. Once yhou're on the easte side of 281, walk down the hill to Benson Stadium.
AT&T
More parking is available in the AT&T surface lots (4119 Broadway, 705 spaces) and can be accessed from the Hildebrand or Broadway entrances.
Alamo Stadium Parking and Shuttle                                                   
Parking is available at Alamo Stadium Northwest parking lots (on Stadium Drive, 650 spaces).  The shuttle will run continuously from 6:00 a.m. – 2:00 p.m.
vip pARKING:
VIP parking will be available behind and adjacent to the natatorium and can only be accessed by a parking pass provided by San Antonio Sports.
Team Tailgate Unloading (Between 6:00 – 7:00 a.m.)

Vehicles needing to unload will follow the main roadway down the hill where they will turn right at the first stop sign at the bottom of the hill near the football stadium.  Proceed ahead underneath the visitor's side of the football stadium until you see the large H-E-B tent/set-up on the right side.  From there a volunteer or staffer wearing a bright green, Corporate Cup shirt will direct you into one of three tailgating area.